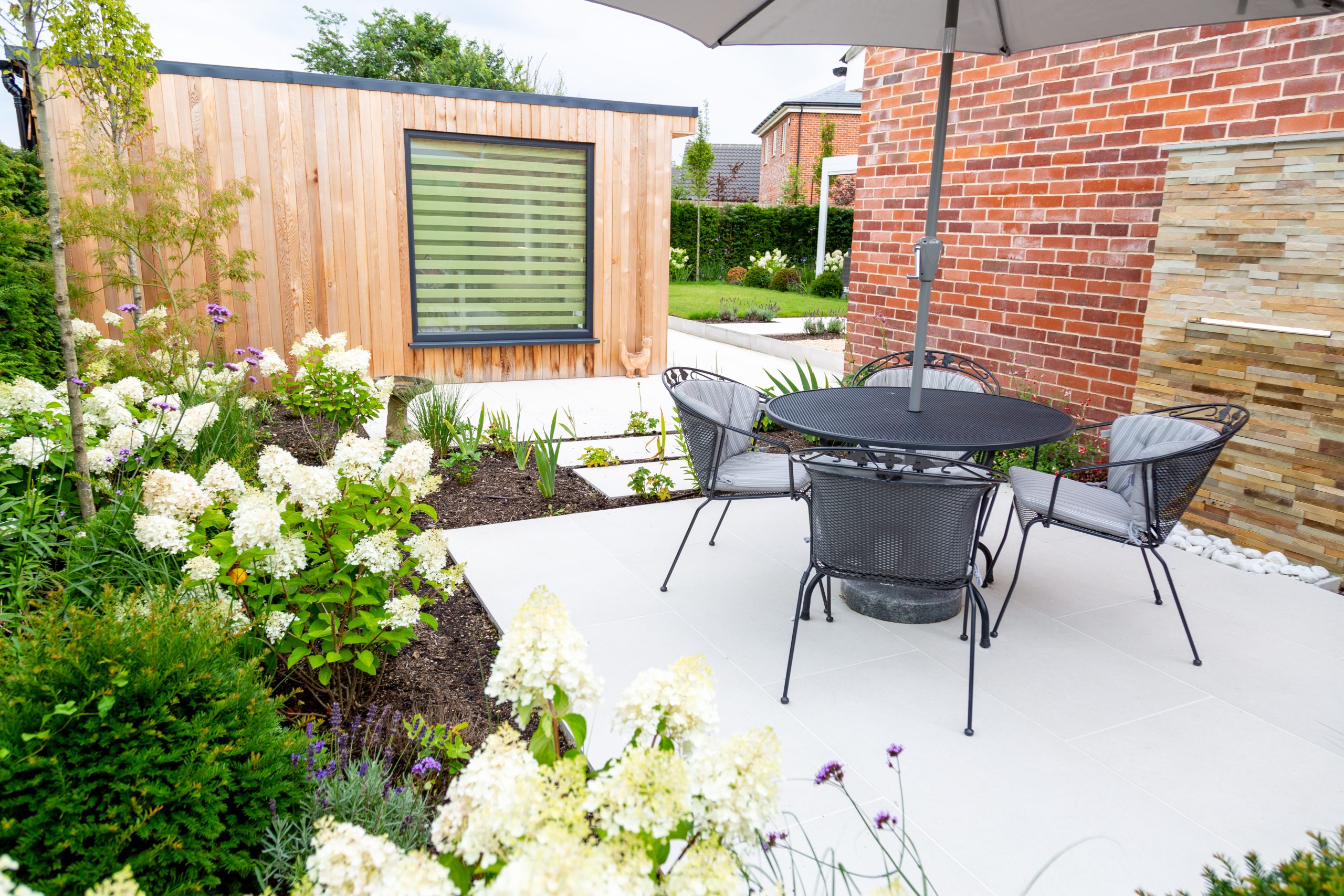 Bespoke garden rooms in Essex
Ever growing in popularity is the bespoke garden room design service we offer to our landscape and garden design clients. These 'outdoor rooms' provide an extra room within the garden. This could be a gym, home office,  home cinema or anything else you can imagine! With the right garden designer, you can transform your garden into a whole new area of your house, bringing increased functionality and aesthetics.
Prior to the pandemic, garden rooms were in demand, but the move to home working saw it go beyond being just a trend. Many people haven't returned to the regular 9-5, Monday to Friday working pattern. Instead, they have a hybrid approach to their work, with some of the week at home and maybe a couple of days in the office. There are so many benefits to this – less time commuting, more time with family and overall a better work/life balance. However, it can be hard separating work from our daily lives if we don't have a dedicated space.
As a result, many people see a garden room as the perfect solution. It allows you to be close to home while still having a quiet space to focus. It is an opportunity to really enjoy your garden and make the most of it all year-round.
The bespoke garden design process
The process of designing these garden buildings starts with an initial consultation to discuss your requirements. We will then create a design brief based on your requirements, and from there on we create your dream garden room! We work with only the best contractors in Essex and the surrounding counties; this teamed up alongside our bespoke garden project management service ensures you receive high quality craftsmanship in the finished room.
With our extensive expertise in designing gardens of all sizes, we can tailor our services to meet your exact needs. This means you can truly benefit from a bespoke design, in which we take into consideration the current layout of your garden before beginning our work. We then render a highly accurate 2D or 3D design of your garden so you can take a look at what you're going to get before we begin the design. No unexpected surprises – you will truly get the bespoke garden room you require.
Bespoke garden design 
No two gardens are the same, and no two garden designs are the same. We are more than happy to speak with you to discuss your exact requirements and explain how we can personalise our service to your needs. Contact us today at Consilium Hortus to discuss your new bespoke garden room in Essex, London, Cambridge, Suffolk and Hertfordshire.