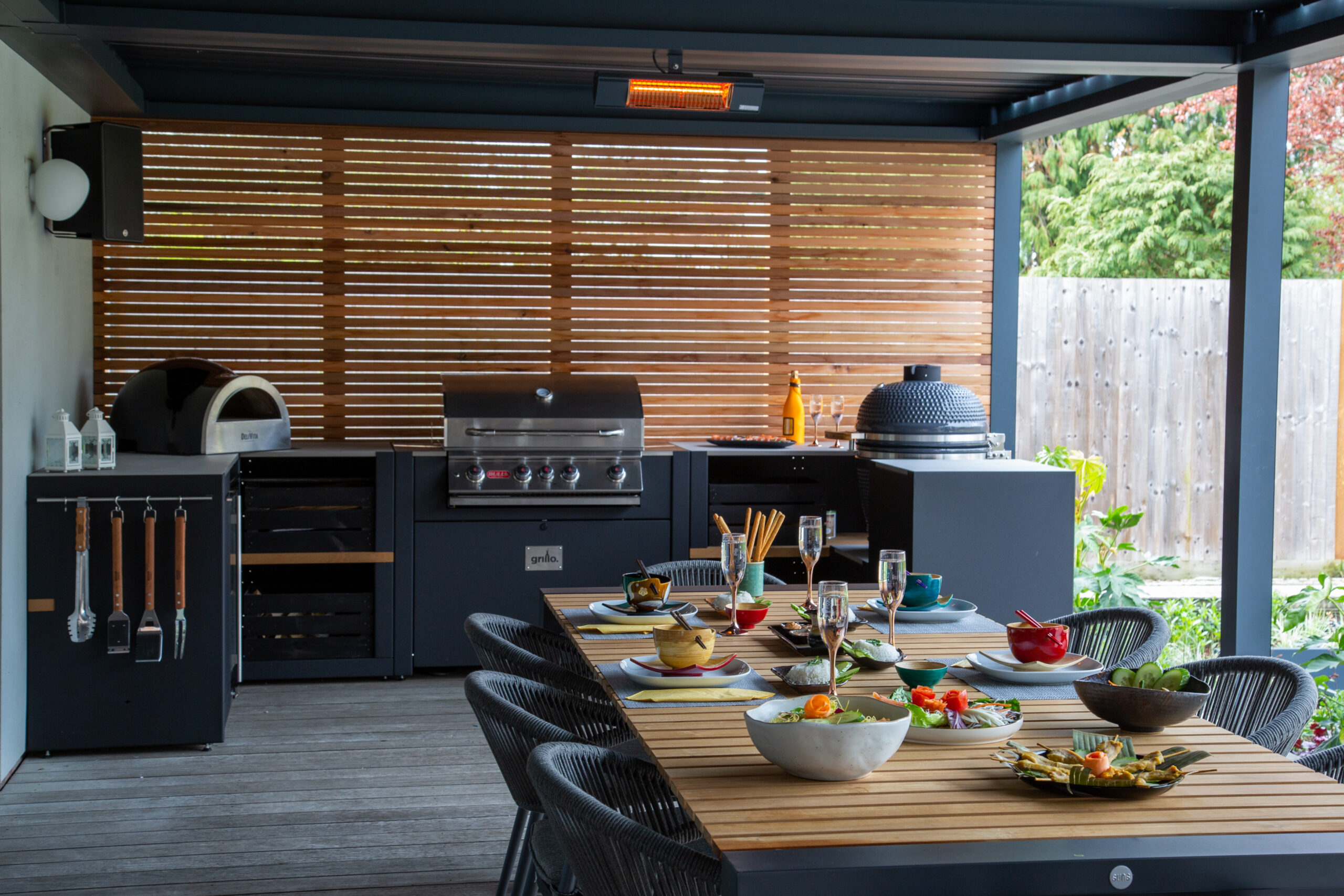 Why have an outdoor kitchen?
Homeowners have always valued the benefits of entertaining, cooking, and dining outdoors. With wonderful friends, family and neighbour's. The fresh air, and the sound of nature, most people find that some of the stresses in life disappear,especially when they have an outdoor kitchen in the garden of their home.
A few years back, outdoor cooking meant a small grill with hardly any working area. This meant a lot of trips to and from the house, a worn out picnic table, and usually a lot of inconveniences.
At present, people are doing their best to claim their garden as an extension of the comforts of their home. Makers of outdoor items have responded with a tremendous supply of products. Good examples are large entertaining areas, outdoor pizza ovens, big grills that make cooking easier, and cabinets and sinks designed specifically for the outdoors.
Overhauling your outdoor living space requires serious consideration. The finished product will be well worth the time, money, and effort invested.
1. It's A Great Way To Entertain
Taking your entertainment space outdoors is continuing to increase in popularity. Most people enjoy outdoor settings and find that there is nothing more relaxing than sitting in the shade on a sunny day with a cold drink in hand.
We can help you design your outdoor kitchen in a way that encourages your guests to gather around, enjoy the great outdoors, and socialise while you do the prepping and cooking all in the same place.
2. Enhance Your Living And Entertaining Spaces
Perhaps one of the best benefits of an outdoor kitchen is its ability to expand the size of your living and entertaining space. It can be handy if you don't have a lot of sitting or standing room in your home. Unless expressly designed for entertaining, houses tend to be split up, meaning the kitchen is in one area, the living room in another, and even the dining room might be separated. While tearing down walls and remodelling your home is always an option, a less expensive and more modern way of maximizing your space is to build an outdoor kitchen.
Transitioning the indoors to the outdoors repurposes the space you already have. Perhaps you already have seating and an outdoor grill, but why stop there? Your outdoor space will become a bonus room that has all the comforts of home in your backyard.
3. Improved Quality of Life and Making Eating Healthy Easier
Entertaining outdoors gives you the opportunity to breathe fresh air and spend time in nature. Studies have shown that time outdoors with family and friends reduces stress and improves life quality.
Above all else, outdoor kitchens are built for grilling. The great thing about grilled food is that it is remarkably healthy. Grilled food tastes great and is better for you than almost any other kind of food. Having an outdoor kitchen even makes this grilled food taste better. Grills cook at higher heats than a standard indoor stovetop, which helps food to retain its texture and flavor. The effect is that you will be able to relish the taste of your meal.
Eating at home in your outdoor kitchen gives you total control of what goes into your food. Having control over your food is especially important if you have special dietary requirements and have to avoid certain kinds of food. This is another reason that cooking and eating at home is healthier overall. Grill with marinades and rubs to get great tasting food with fewer calories.
4. Increases the Resale Value of Your Home
Looking to add some extra value to your home? One of the best decisions you could make would be to create an outdoor kitchen. Outdoor kitchens offer one of the best returns on investment when it comes to home improvement projects. Studies have shown that homes with outdoor kitchens sell up to 30 per higher than expected. If you're concerned about whether you'll get back your investment for your outdoor kitchen, don't be. According to experts, outdoor kitchens return between 100% and 200% of the costs upon selling.
If you build an outdoor kitchen out of good quality materials then you'll get years of enjoyment and use out of it. You'll love showing off your outdoor kitchen to friends and family as well as prospective home buyers. Even if you have no intention to sell right now, the long life of an outdoor kitchen means it will be ready to impress potential buyers whenever you need it to be.
5.Customisability, Versatility, and Space to Create Your Dream Kitchen
The chances that the house you bought came with your dream kitchen are very low. Even if you designed and built your own home, it might not have been in your budget at the time to create the kitchen you always dreamed about.
We will give you the chance to customise and create an amazing kitchen space without the limitations an indoor space has.
For example, you can choose your grill, countertops, layout, and appliances to add to your unique layout. Some popular options are:
An outdoor bar with built-in beverage bins and ice makers
Refrigerator
Two-Sided Griddle
Side Burners
Warming Drawers
Smokers
Firepits
Serving Stations
Fully Stocked Cabinets
Sink
Dishwasher
Blender
Custom Seating Area
Outdoor Rated TVs
Your outdoor kitchen should reflect your style and personality, just like your home's interior does. Customising your outdoor kitchen with little details like backsplash, outdoor pillows, and mood lighting puts your imprint on the space.