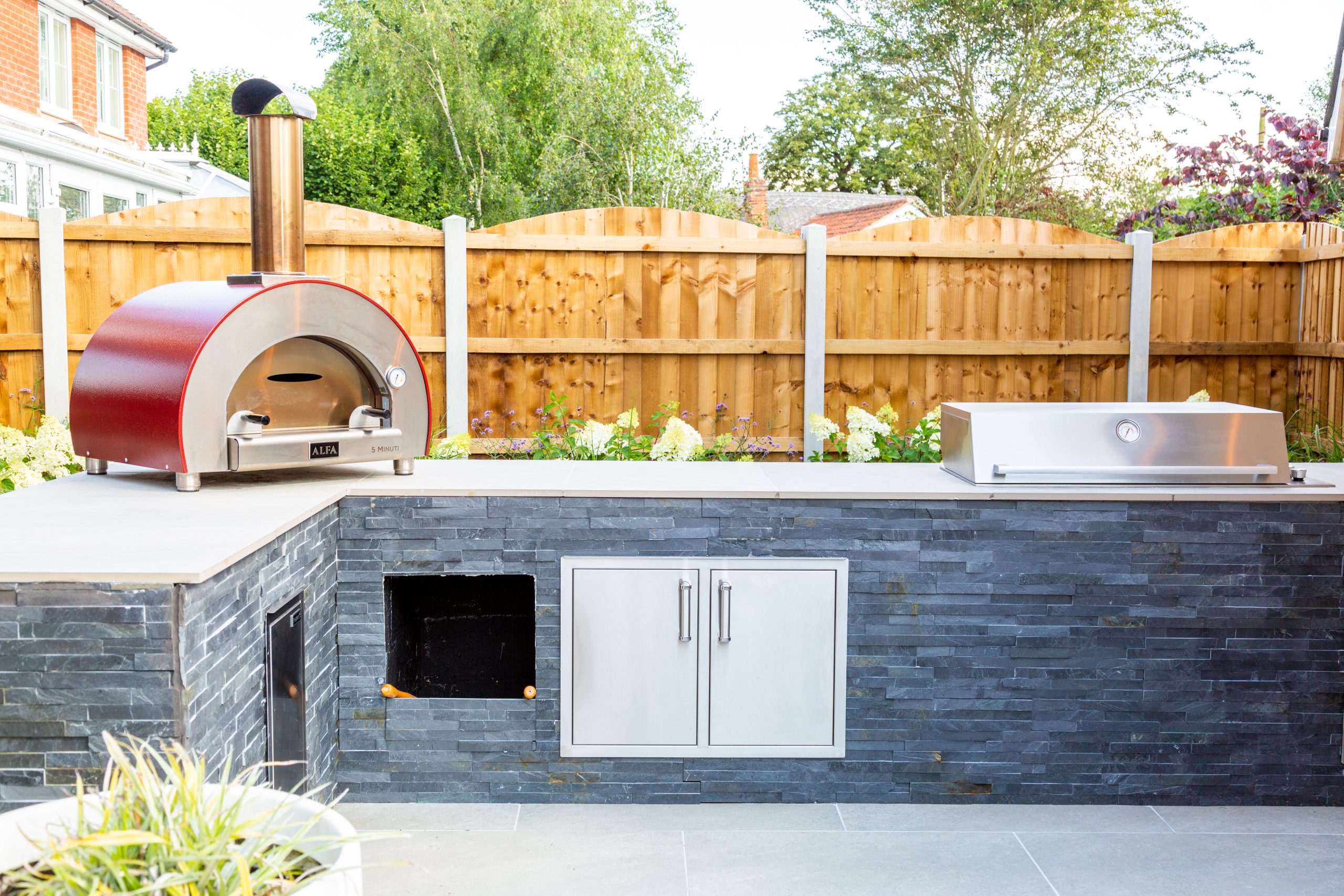 'Spring' into Action – Part 2 Best BBQs and Outdoor Kitchens
After enlisting the help of your local garden designer to make your outdoor space look fantastic and spring ready, it's now time to get out there and enjoy your newly updated garden!  We know too well how unpredictable the English weather can be, but that's never stopped us Brits from getting out there and making the most of the nice weather when we get some!  Turning your garden into a place that you can easily whip up a great meal makes the space more usable.  This is so important right now, knowing we may all be holidaying in our gardens!  As promised, part 2 of this month's blog, explores the best BBQs and outdoor kitchens out there and how a local garden designer can help you achieve this.
The Classic BBQ
Normally this consists of a simple grill, stick some coals in and away you go!  BBQ's have come a long way and there are some fantastic options out there that are far more than this.  Check out our recommendations for the classic BBQ upgraded! Consilium Hortus works exclusively with the guys over at Lower Barn Farm on all matters BBQ and outdoor living.  Like us, they look after the local Essex area and provide high-end options to complement our garden design services.
BeefEater BBQ
Gas – with a functional, stylish design, excellent durability and a great range of features Beef Eater BBQ's will allow you to cook up a simple steak or the perfect roast!
Some of the features include:
Rust Free Cooktops
Anti-Flare Technology
Powerful Cast Burners
Cart, Module or Built-in Ready
Integrated Convection Roasting Hood
Quan Garden Art
Wood – getting back to the old-fashioned way of cooking without the help of gas.  The hot plate on a Quan fire plate lends itself to cooking a far greater variety of delicious, mouth-watering foods of various shapes and sizes. Besides meat, fish and vegetables, food such as soup, eggs and cheese can be successfully cooked using a pan and unlike a conventional barbecue, even chopped and grated items will stay on the hot plate and not fall into the embers beneath.
Our local team can help support you when choosing the right option for your garden.
Full Outdoor Kitchen – The Outdoor Box
If you and your family intend to spend some serious time outside in the garden, then building a bespoke full kitchen could be the way to go.  The ultimate solution for al fresco dining; the modular range of 'outdoor boxes'.  These form the building blocks that can make the open-air food preparation area you have dreamed of a reality!
The outdoor boxes are available in seven different designs, which you can use to create your own unique configuration.  The only limit is your imagination!
When undertaking such a big project, the best way to achieve your perfect outdoor kitchen is with the help of an expert.  Making sure you have a team of local garden designers and kitchen engineers is most certainly a must to get the best results possible!
Celebrate outdoor living with a BBQ or outdoor kitchen and get the best out of your garden this spring and well into the summer months!  We can support you in the local Essex area to see your dream outdoor kitchen become a reality.
Contact us today to find out more.
To start things off the right way, check out our spring recipe, you can get cooking straight away.  There'll be no asking what's for dinner!
Blue Cheese & Apple Burger
Ingredients
750 g quality minced chuck steak (see tip)
1 soft round lettuce
1 punnet of cress
2 Braeburn or Cox apples
120 g blue cheese
olive oil
6 burger buns
American mustard
Method
Make the burgers at least an hour before you want to cook them. Divide the mince into 4 portions and work each ball in your hands for a few minutes to melt the fat and mould them into a relatively smooth, round patty. Make them slightly bigger than your bun, as they will shrink when cooked.
Pop them on a tray, cover them with clingfilm and chill in the fridge.
When you're ready to cook your burgers, get your toppings ready. Pick off, wash and spin dry the lettuce leaves, cut your cress, slice the apples, crumble the blue cheese into chunks, and leave everything to one side.
Preheat your grill to high. Pop a large non-stick frying pan over medium heat and add a drizzle of oil to the pan.
Fry the burgers for around 4 minutes on each side if you like them pink in the middle, or longer if you prefer them fully cooked, seasoning the patties with black pepper as you cook them.
Halve and toast the buns under the grill or on a hot griddle, then line them up on a board ready to go.