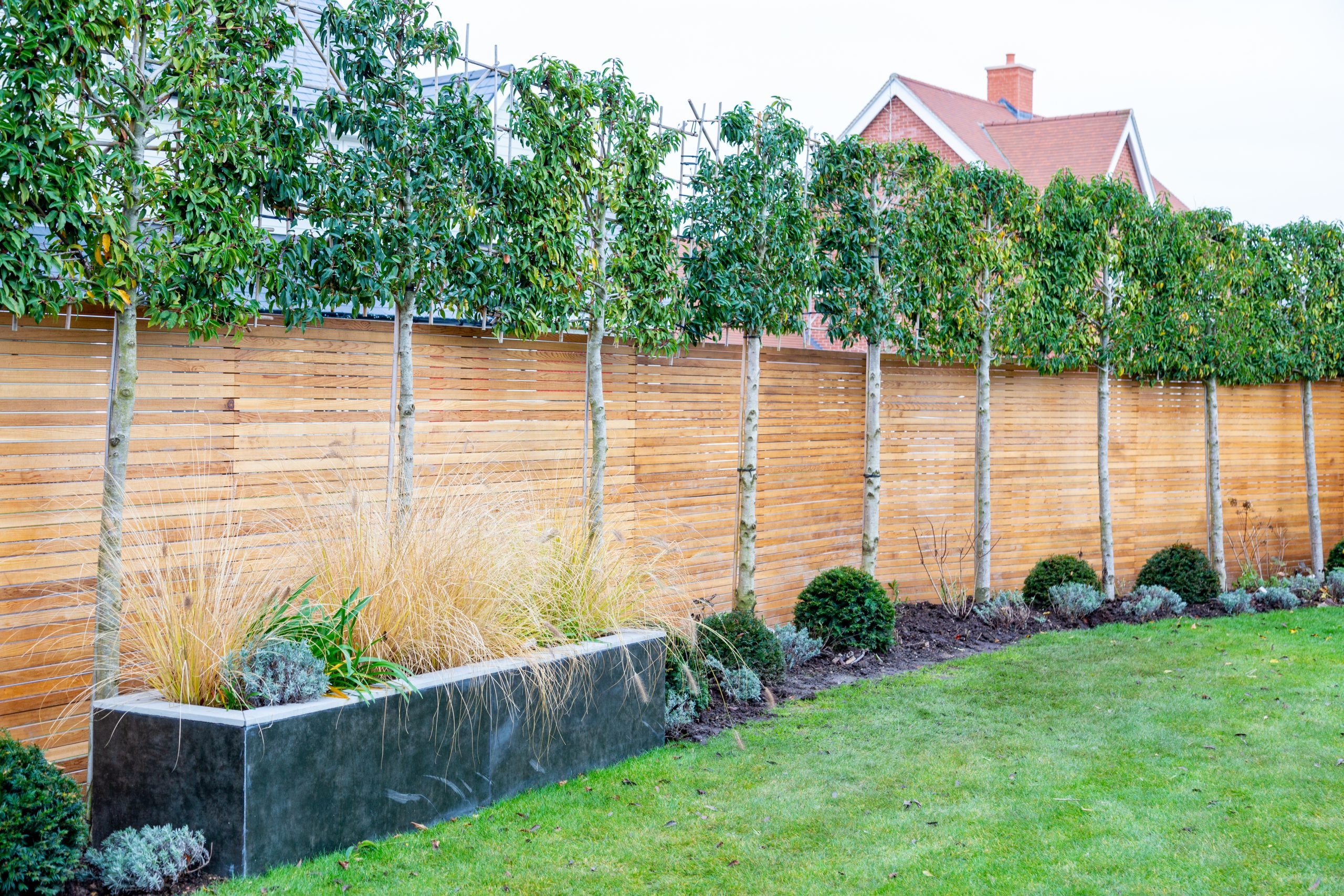 How we can make your outdoor space private – hedge addition
While creating a functional garden, it's important to consider the whole family, adults, kids, and furry friends! Whether you have a big garden, a patio or a balcony, a partition (or enclosure of sorts) is a great way to ensure privacy and security.  But a wooden fence isn't the only way to help keep out nosey neighbours, block unsightly views, and muffle street noise. From a sky-high hedge to a vine-covered trellis, the word hedge can cover a wide range of options for upping the privacy in your exterior.
Having recently been hard at work helping one of our clients achieve privacy in their garden, we thought we'd share our tips on how this can be done in your garden too…
Vine-Covered Trellis
The open structure of this freestanding trellis allows vines to grow and climb. The result is a natural barrier that marries well with the traditional landscaping of this garden  It gives some great texture and breaks up the wall and the fenced area really nicely.  This option keeps your garden more organic and greener, whilst giving you privacy from onlooking neighbours.
Pleached Tree
Fencing doesn't always mean enclosing the whole of your garden.  You could use a fenced hedge to create a little nook area in your garden for relaxing. Breaking your garden down into areas makes for an interesting outdoor space and can serve a multitude of uses!  For a contemporary look, consider a vertical pattern instead of the conventional horizontal design. The vertical orientation, open layout, and choice of stain give this custom enclosure a clean, architectural edge that echoes the vibe of the surrounding houses and blends in really well.
Traditional Hedging
It wouldn't be right unless we did give the original, more traditional choice of hedging a nod!  It provides your garden with the privacy you need in a neat and efficient way. It also works very well to give you some privacy at the side of a drive or if you have a front garden area that you'd also like to protect from onlookers!  This hedging is so effective and it's also very easy to maintain, which is why it is such a popular choice.
Tree Hedges
Sometimes having a large traditional hedge can be just a tad antisocial!  There's a fine balance between wanting your garden to have the privacy it needs but also remaining part of your street.  Adding some trees to the project can be a great way to achieve this.  It gives you that extra bit of height without creating a hedged fortress! It also allows more natural light into your garden and is a great way to encourage local wildlife into your outdoor space.  Your choice of tree is very important if you did intend to go down this path. The roots can cause damage to paths and if you choose the wrong ones, so it's best to have a garden expert like us come out and help you with this option.
Shrubs and foliage hedge
The final option to ensure your garden is kept private is to add shrubs and foliage, creating a tailored hedge that can be as intricate or as simple as you'd like it to be.  Again, this idea is all about choosing hedging that gives you different areas of your garden, so it has many different uses.  You could always add lights, a water feature or even a hot tub, so you can really take advantage of the statement hedge as a design piece, not only a privacy feature and a place to relax!
So, there you have it, the humble hedge, not so humble!  You can achieve that private, relaxing space anywhere when you have a professional like Consilium Hortus take on your project. Make sure your outdoor space is ready to enjoy this summer, call us today to find out how we can turn your dream garden into a reality!