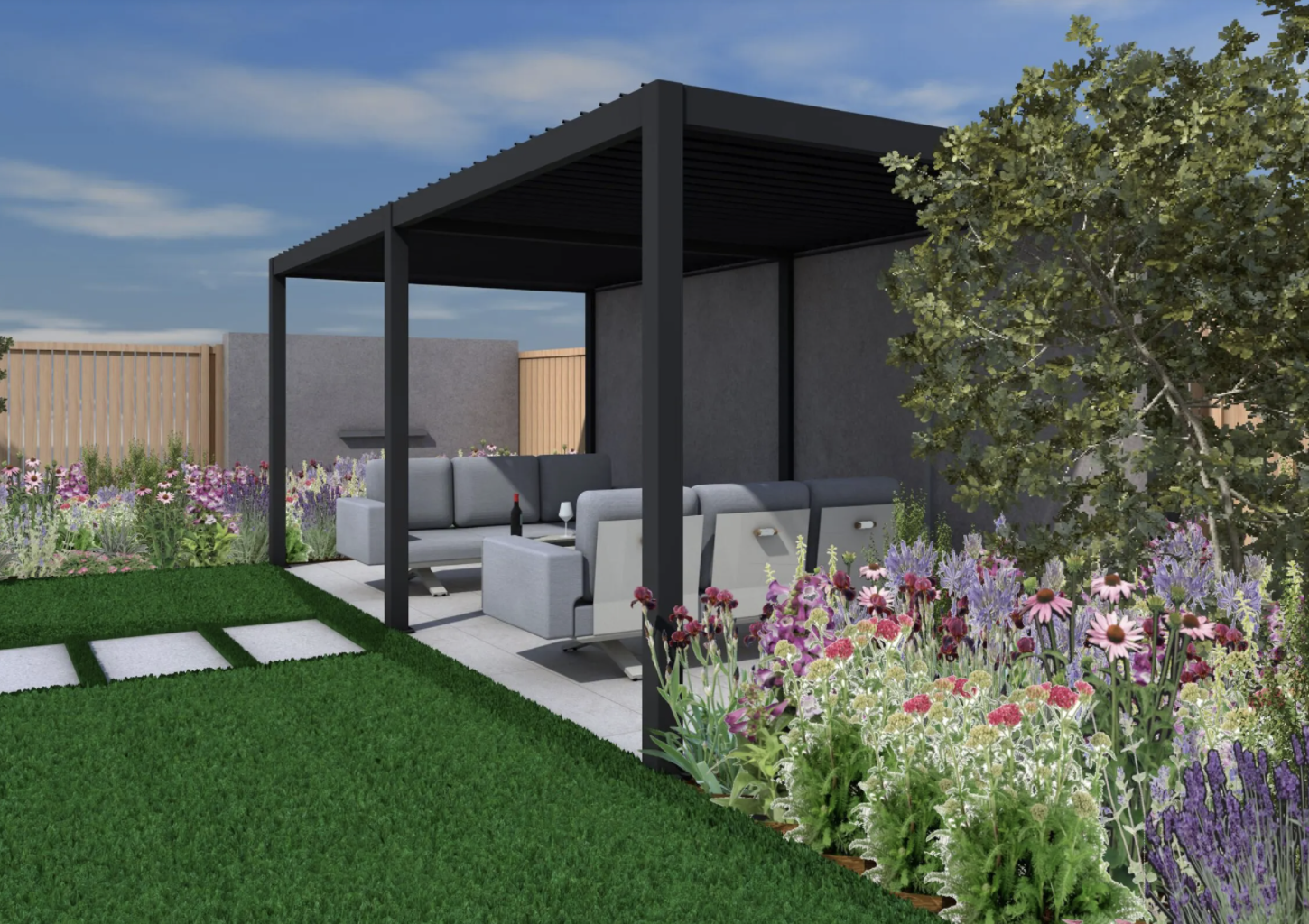 How do you design a garden?
We've all been spending more time at home over the past year and a half and for many of us, that has inspired us to change our surroundings whether inside or out. With so many property transformation programmes added to this, such as Your Garden Made Perfect, it has got us thinking about how we can create homes and gardens of our dreams.
While it can be relatively easy to change the inside of your home through a new coat of paint in a room or a statement piece of furniture, often people get more stuck for ideas with their garden. This is because a garden is like one giant room, but one that needs a full plan for it. A couple of hundred pounds won't be enough to give it a full makeover either. It's important to put a lot of thought into your garden design – whether you are doing it yourself or employing a professional. So below are some key tips from our team as to what you need to think about when designing a garden.
1. Consider the location of your garden
A lot of focus is often given to the direction of your garden. For example, it has been reported in the media that having a south-facing garden can be incredibly valuable – one survey found that two-fifths of buyers would pay at least £16,000 more for a south-facing garden. However, clearly, we can't all have this! A well thought through garden plan has to take the direction your garden faces into account and this is because of the effect it will have with light and shade. A garden that gets a lot of sunlight needs to have plants that can take this light and heat.
As well as thinking about the direction your garden faces, you also need to consider other aspects of the location. This can include where you are in the country (as this will also influence the temperature and rainfall you might get), whether your garden slopes, if it has any dips, if it is very exposed to wind and so on. All of these external factors can play a crucial role in how your garden thrives and it is important to design your garden with these in mind.
2. Measure out your garden
Measuring your garden space will help you to understand what work is required and also what budget you might need. While you don't need a huge budget to design a garden, if you have a larger space then you need to be aware of your costs to try and keep these within the amount you want to spend. Even if you have a smaller space, you can get carried away by thinking it won't cost much because of its size.
As well as helping with the budget side of things, measuring out your space will also help you to consider the placement of different aspects of your garden, whether it is feature pieces, a long winding path, planters, furniture and so on. You will find it very hard to come up with a clear plan that you can implement if you don't know the dimensions of your garden.
3. Make a list of any personal requirements
You are designing your garden to give yourself a beautiful new space that you can enjoy. To ensure this is the case, you should make a list of any other requirements that are important to you. A great garden designer will adapt your garden around your needs to ensure that it works for you and your lifestyle. So whether it is ensuring there is some plain turf to allow for a football to be kicked about, or carefully choosing gravel that works well with prams or wheelchairs, these are all points that should be taken into consideration right at the start of your plan.
Take some time to walk around your garden on a regular basis in different weather to help you to think about what should go on your list. Also question what you want out of the garden or how you plan to use it. Do you find yourself using your garden as a way to enter your home on a regular basis? Do you want space to grow vegetables? Do you have small children and want to avoid hard surfaces? Do you want to encourage birds to visit your garden? Do you want your garden to be designed with sustainability in mind?
By really thinking about how you and friends or family use the garden, it may help you to come up with new ideas or to avoid any issues that will be hard to reverse. Making decisions about your garden can be harder to reverse than if you were simply redecorating an interior space.
4. Define a theme and colour palette
You don't necessarily have to have a theme or specific colour palette, but this is a decision in itself and one that you still need to think about. If you don't want a defined range of colours then you should still actively choose plants for their colour as you could easily accidentally end up with a limited palette. Some people pick a theme and then use this to influence their colour choices too. Whether you want a cottage-style garden or a tropical feel, keep this in mind with every decision you make to keep your look consistent. If you don't stick to your plan, then it can easily lose its impact and end up looking confused.
5. Research your plants
If you are employing a garden designer then you won't need to do as much research. You can provide a brief on your favourite plants or what your theme and colour palette is and your garden designer can help determine the plants that can be used. However, it is still useful to do your research as once the plan is complete and the garden has been created, you will be responsible for its upkeep. You don't want to have to put in so much effort to get to this point to then forget what needs watering and how often, or to forget about pruning.
The Royal Horticultural Society has a fantastic encyclopedia, called What Plant Where, which can help you if you don't have much background knowledge about plants. You can look up the perfect plants for your garden based on location and this will get you off to a good start. There's no point trying to just fit in your favourite plants if they won't survive, so picking plants based on their attributes and how they meet your growing conditions is a smarter and long-term approach.
Are you ready to design your garden?
The above sets out just a few of the points we consider when we start designing a garden. Regardless of whether you are going to design your garden yourself or if you are going to hire a professional landscape gardener, having a clear plan in place is crucial to delivering a beautiful garden that will thrive and develop over the years to come.