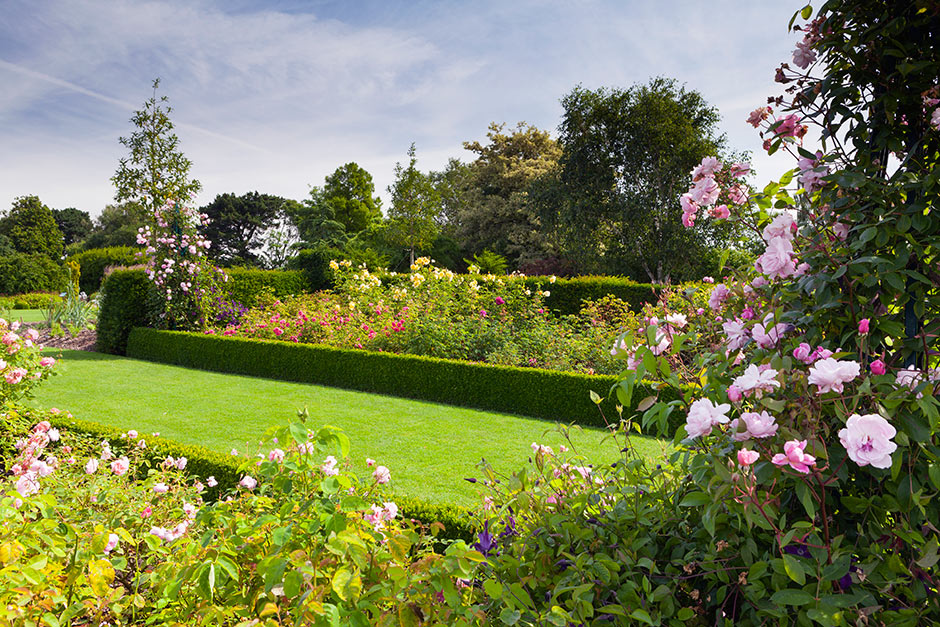 Garden Design in Essex: Sources of Inspiration
If you're planning a new garden design, one of the most important steps is to get inspiration to be sure that you get the look you are after. If you aren't a regular gardener, it can be hard knowing where to start and the choices of plants or styles can be overwhelming. One recommendation we have is to visit gardens to get an idea of how planting looks in real life and how this could work in your garden. What is even better is if you try to find gardens that are local to you. While any garden you visit is probably going to be much larger than the space you have to work with, it can still be helpful because aspects like temperature and soil type are likely to be similar. 
We're based in Essex and are lucky enough to have some fantastic locations near to us that can spark plenty of ideas for you. 
Hyde Hall
A Royal Horticultural Society site just a short drive from Chelmsford, Hyde Hall makes for a great day out whether you are looking for garden design inspiration or not. It has a number of different gardens so there is a wide range of styles for you to take a look at and consider for your own garden. For example, they have beautiful courtyard gardens to showcase large architectural and formal planting. Walking up towards their main restaurant, you can go through their renowned dry garden, which is a fantastic example of plants that work well in areas of low rainfall. This can be perfect for those looking for a lower maintenance garden that they won't need to water every day! One of our particular favourites is the rose garden and rope rose walk – many areas of Essex have heavy clay soil that can be tricky to work with, but these roses show how you can use that soil to your advantage. The rose garden is also planted in different colour combinations and this can create a real impact that you can try and copy at home.
Beth Chatto Gardens
The Beth Chatto Gardens are proof that you can turn any space into a beautiful garden. When Beth Chatto first began working with this land close to Colchester, it was overgrown and viewed as a bit of a wasteland. However, she took a 'right plant, right place' approach and the gardens are now thriving. This is a method we very much follow – it is important to consider the plants and where they are being planted in terms of shade and positioning. If you don't do this, you are going to give yourself a lot more work when it comes to maintaining the garden but also you may end up losing plants, for example, if they just can't cope with full sunlight. 
Paycocke's House and Gardens
Found in Coggeshall, Paycocke's is a Tudor merchant's house that is one of the main attractions of this large medieval village. While the house is stunning, we prefer to wander around the gardens that can be accessed through an arched doorway from the road. It is a National Trust property and is well maintained by the team there, which includes a number of volunteers. Its layout takes you through different sections, all of which were designed by a resident of the house in the early 1900s. There are two pathways leading to the garden, with beautiful brickwork that on one of the routes, is lined with lavender. Of all of the gardens on this list, this is the closest you will get to one that you may be able to replicate due to its size. Furthermore, the way it is laid out means it offers a number of features such as a paved area, a lawn and a vegetable garden. Many of us want to use our garden in several ways and this helps to show how you can break a garden up into compartments to meet these different needs. 
Audley End
From one period garden to another, Audley End is on another scale. Based in Saffron Walden, it is owned and managed by English Heritage and offers so much to do. The gardens were designed by 'England's greatest gardener', Capability Brown. He created a lake, a number of garden buildings and made the most of the fantastic views across the estate. If you are torn between having a formal garden design, or a more organic style, you can see all of these at Audley End. Having this range of styles in one place may help you to steer you in one direction although you may be overwhelmed by the choices you see! 
Markshall Estate
While Markshall Estate may sound like it is another grand mansion house with elaborate gardens, the house itself was demolished after the Second World War. It had been occupied during the war given its location, which is between Coggeshall and Earls Colne. Despite this, the gardens remained and these have continued to develop over the past decades. There are acres for you to amble through, with a walled garden, woodland, an arboretum and plenty of beautiful tree-lined paths. You may even catch sight of one of their peacocks strolling along, occasionally showing off their incredible feathers. The estate often holds events within their gardens, which are a perfect opportunity to get some inspiration for your garden design. Whether it is a photography walk through the woods or learning about the different tree species, you can start to learn more about these gardens and how you can translate some of their ideas into your own space. 
Make sure you get some inspiration
Whether you are planning a design of your garden now or in the future, it is always worth starting to look around for ideas at the earliest opportunity. This is also crucial because you can see how different gardens look throughout the seasons. Even if you are just in the early stages of thinking about a big change for your outdoor space, we would recommend getting out to start sourcing that inspiration now. 
If you have some ideas already and want to get started with your new garden design, just get in touch and a member of our team will get back to you. We can talk through what you want to achieve and how we can help.